21 Essential Tools For The Home Handyman S Shed
Posted by The Kings of Steel | Blog | November 02, 2015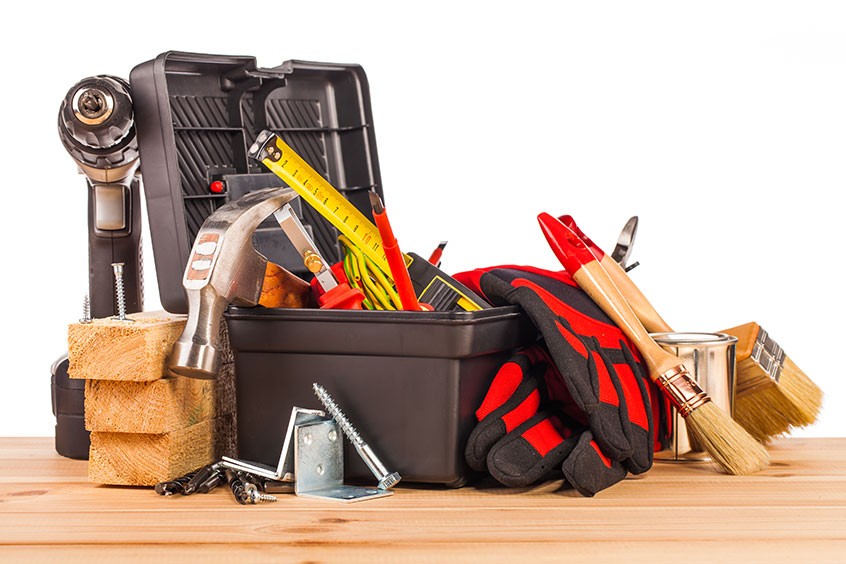 A shed or garage isn't just a place to store things or mend broken items - with the right tools it can also be a place where ideas come to life. Whether you're a home handyman, a self-taught carpenter, or an automotive enthusiast, having the right tools for the job not only makes the task much easier, but also allows you to enjoy what you're doing. Plus, as any man will tell you, having a shed full of tools will make your garage the envy of the street.
No matter what kind of jobs you like doing, there are a few basics that every good tool kit must have. So let's start with the basics.
Workbench
The most important tool (well, accessory) is a decent workbench on which you can build, repair, or create. It should be solid enough to withstand even the most rigorous maintenance jobs, and hold heavy furniture or car parts. It also needs to be large enough to set up tools as well as spacious enough to work on. If you have enough space, attaching a bench vise will add that professional finish.
Measuring tools
Don't just stop at a standard tape measure. You'll also need a level, several squares in varying sizes (the flash versions also contain a levels), and a metal ruler or two.
Screwdrivers
A full set includes a wide range of head sizes on both short and long screwdrivers. Try to invest in a good quality set, as inferior heads are easily destroyed.
Socket and ratchet set
Every garage needs one of these, preferably one that has both short and deep sockets in metric, and fractional inch sockets to cover every possible job. It's also a good idea to invest in a set of extension pieces in a range of sizes for all those awkward jobs.
Hammers
You'll need a normal sized hammer, a small one, a rubber mallet, and sledge hammer for those heavy outside jobs.
Allen keys (or hex keys)
When you don't have them, you're sure to need them. So get them before you need them. Allen keys have many uses, including screw heads, and are essential to the garage.
Wrenches
An open ended wrench set is invaluable, as is an adjustable wrench. Get these in small, medium, and large to be prepared for any job.
Pliers
Pointy nose (or needle nose), normal short nose, tongue and groove, lineman's, and slip-joint pliers are just a few variations that are handy to have in the tool kit. If you have a specific job (such as undoing hose clamps), there are specialised pliers that can help.
Clamps
Another necessity you can't do without. Every home builder or amateur mechanic needs clamps!
Stanley knife and blades
Always handy to have around, from the smallest to the largest of jobs.
Markers
A permanent marker or some chalk should always be close by for marking measurements when doing jobs.
For those who like to think themselves a bit handy, here are some extras that are sure to come to good use in your garage.
Torque wrench
This is used to tighten nuts or bolts to a specified setting. Although mainly used in automotive situations, a torque wrench can also come in handy in other areas.
Air compressor
Have fun with all the extra attachments you can buy for this wondrous gadget. Paint, drill, blow up inflatables, clean, and more, and you'll wonder how you lived without i.
Pressure washer
Great for cleaning the outside of the house before you go and blow those car parts clean. Pressure washers can also be used in stripping old paint or cleaning decks.
And some power tools that no garage should go without:
Drill
So many things can be done with a drill if you have the right attachment, and there are a of different attachments - buffers, hole cutters, grinding attachments are just an example. There are two types of drills: cordless or with a power lead. If you're going to get a cordless drill it's better to buy a good quality reliable brand, as the batteries in cheaper generic drills have a tendency to die quickly. Always keep a good variety of different sized drill bits, remembering concrete and steel need special bits.
Circular saw
You'll be surprised at how often it gets used, particularly if you have somewhere to leave it permanently set up. Make sure you have spare blades for cutting through different types of materials.
Electric sander
One of the best inventions for the home handyman or woman, a garage should have at least one. There are three standard types: a flat sander (rectangular shaped discs that move rapidly left to right), circular sander (discs moving in a circular motion), and the more recent mouse sander (shaped like a miniature clothing iron, making it effective in reaching hard to reach places).
With all these projects you're going to be taking on with all these tools, you're surely gonna need to care for your safety. So here are some safety essentials for every garage:
Fire extinguisher
Every garage user, or even homeowner, should consider this a necessity - end of story.
Protective goggles
Whether you're working with harsh chemicals, drilling pieces of steel, or cutting a piece of wood, your eyes are going to need protection at some point. Anti-fog and shatterproof glasses are best.
Heavy duty gloves
Try to have rubber and material gloves for all the different jobs that may come up.
First aid kit
Because you never when accidents can happen, and you always want to be prepared.