The Ultimate Guide To Garage Doors
Posted by The Kings of Steel | Blog | February 18, 2019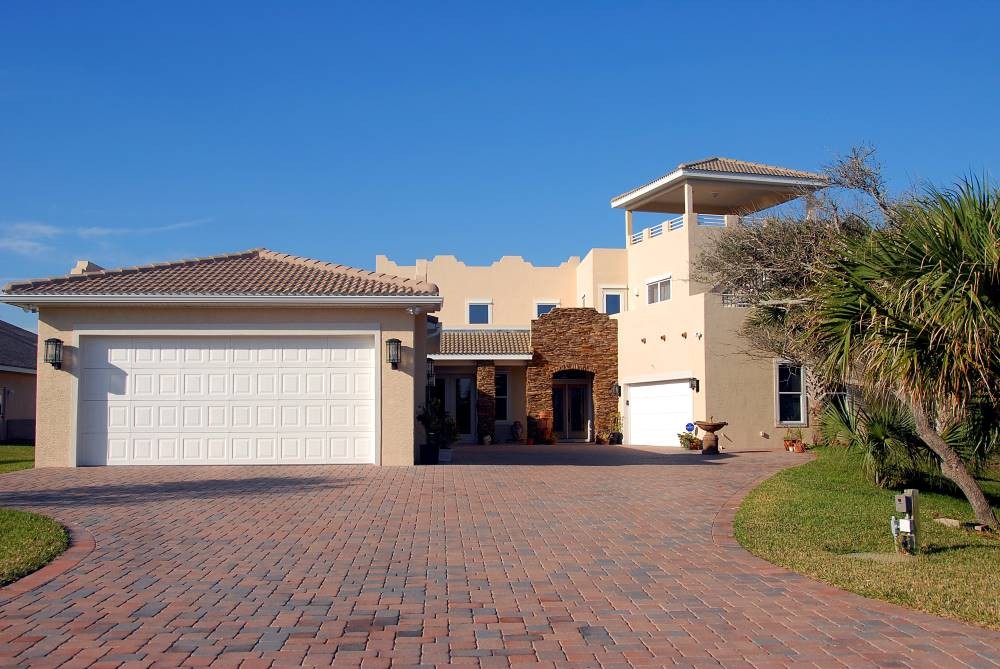 Quality garage doors are crucial for any home or business. Garages are a large part of the front of a home, contributing or hindering the kerbside appeal of your property. If your business utilises a garage for any reason, it's an asset that can make a huge difference to your daily operations. Unfortunately, one aspect of a garage that is easy to overlook is the most important feature – the garage door!
Whether your home or commercial property is in need of a new roller door or a sectional garage door, now is the time to act. Here's all you need to know before making your decision.
Why Are Garage Doors So Important?
It is easy to assume that the garage door would be a fairly insignificant decision. On the contrary, they can have a telling impact and is not one that should be taken for granted. Whether you are choosing a garage door for a new residential or commercial build, or thinking about replacing an outdated, damaged, or inferior garage door, there are a number of factors that should be considered.
The benefits of a new sectional garage door or roller door include:
Appearance
As the garage is a large part of the visual design of the front of a house or commercial building, it is important that it looks as good as the rest of the property. Dated, dented or damaged doors can reduce the aesthetic of the property, but with the wide variety of materials and colours available in ARD garage doors, it is easy to improve the kerbside appeal and gain a better first impression for either your residential build or your commercial property.
Improved Security
Garages are usually the largest door on your property and can be home to some of the most expensive items in your home or workplace. A quality garage door can ensure that they are secure from break-ins and other intrusions.
To guarantee all items and vehicles stored in the garage stay there, you need to confirm that your garage door is made from quality material that can stand up to both climate and accidental damage. Ensuring that the operation of the garage door is as smooth as possible is also important, to guarantee that it closes securely at the end of the day.
Reducing the noise of the garage door
Noise can be a factor in replacing an older garage door. If the original door on your property creaks and groans it might be time to replace it with a newer, more modern model. With a wide variety of new materials and finishes, a modern garage door can reduce the noise and create a frictionless entry to your commercial or residential property.
Improved soundproofing
Whether you use your garage in your home as an office or as a band practise area, or have a large commercial enterprise with multiple garages, sound travelling in and out of the garage can cause annoyance. If you know upfront what the garage will be used for, it is easier to install sound proofing initially. The type of door can also affect the sound proofing, with sectional doors easier to soundproof. By installing or replacing the garage door with a newer one, made from modern materials, it is easy to improve the sound proofing.
Protection against the wind and rain
During Autumn and Winter, seasonal issues can threaten the sanctity of your garage. With rain, leaves and even snow in some areas, you need to ensure that your garage door is safe and secure against the elements. By upgrading to a new roller or sectional garage door, you can guarantee that your garage will be safe from the weather for years to come.
Reduce heat loss
One of the biggest sources of heat escaping from a home or office can be through the garage. To make sure your energy bills stay down, if your garage connects directly to the house or office, a modern sectional or roller door garage door with insulation will make sure the heat stays where it should be and keep everyone comfortable year-round.
Ease of entry/exit
A new, smoothly operating garage door will make it easier for your workers to enter or exist via the commercial garage.
Easier deliveries
A modern and easy to use garage door will make larger deliveries a breeze, allowing anything large to be delivered easily and seamlessly into your garage.
Improved space
Many outdated tilt garages take up a lot of space as they are constructed from one large panel that swings up and over into the ceiling of the garage. Their biggest downside that since the door swings outwards with its full length, you must stop several feet in front of the garage to avoid being hit by the door when it is opened before you can enter the garage. By upgrading to a modern roller or sectional door, you can avoid this disadvantage and gain back space and time.
Roller Door Or Sectional Door, Which Is Right For You?
Before ordering your new commercial or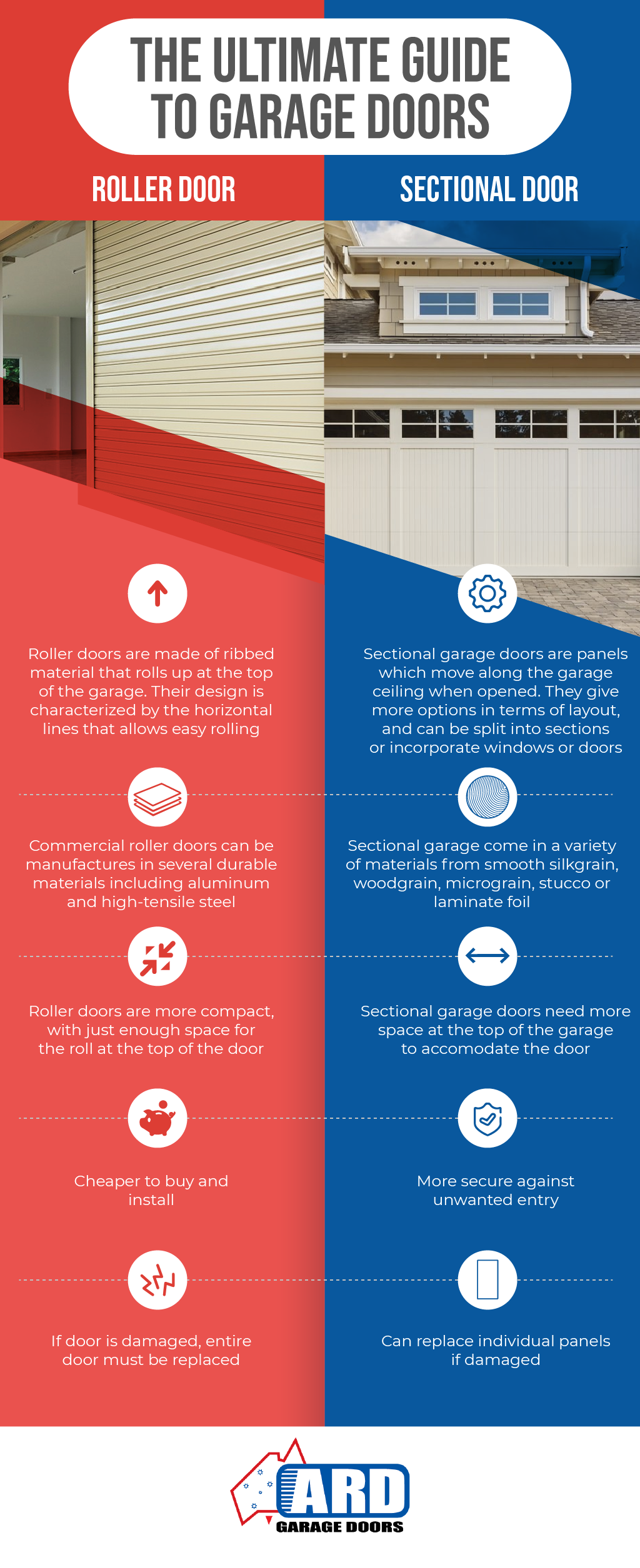 industrial garage door, it's vital that you take the time to analyze all options. After all, you do not want to be left regretting your decision later down the line.
When looking at garage doors, you may encounter the following alternatives;
Side hinged garage doors,

Up and over garage doors with canopy lifting,

Up and over garage doors with retractable lifting.
While all of those options do serve a purpose, they are probably best suited to domestic use – although, even then, roller doors and sectional doors are still the ideal solutions. When opting for commercial or industrial garage doors, though, they are the only two options you should consider.
So, which is right for your business?
Roller Garage Doors
Domestic or commercial roller doors can be manufactured in several durable materials including aluminium and hi-tensile steel. They are characterised with their horizontal lines, and do not offer very many other design choices apart from colour.
Since colour is the main style decision with roller doors, the palette of door colour options that ARD offer is quite extensive. All colours are applied to the doors during manufacturing to provide a bold, vivid colour. This can help the garage stand out and will ensure that they continue to look great for years as they are capable of withstanding anything that the weather and industrial setting may throw at it, which includes keeping out the rain.
Roller doors can be insulated or uninsulated depending on the needs of the customer. If you are planning on using your domestic garage for anything other than storing cars and large items, it would be a good idea to get the door insulated up front. Depending on the layout of the house, if there are any direct connections between the house and garage, insulting the door can prevent heat loss.
With regards to opening roller doors, automated opening with remote control for easy access is a popular choice, however if you want to leave it manual only, roller doors are very easy to open and don't need a lot of strength. Whether using mechanical or manual openings, the roller garage doors can be opened in seconds. This can be particularly important in a busy commercial setting where time is money.
Roller doors are an excellent option for commercial properties. ARD commercial roller doors have an additional centre drum in the middle of the axle for both extra strength and additional security. This extra axel also helps protect the larger roller doors against strong winds or other inclement weather, ensuring that your commercial or industrial building is safe from both human interference and also from the elements.
Roller doors are a simple and stylish option for your garage, and can be a great decision for domestic, commercial and industrial garages.
Sectional Garage Doors
Sectional garage doors are designed in panels, which gives the user a far wider array of options in terms of layout. This means the door can be split into sections along the wall of the garage for various openings. The materials allow for the face of the door to be smooth silkgrain, woodgrain, micrograin, stucco, or laminate foil. Moreover, you can use virtually any colour imaginable. At ARD doors, we use the Bluescope Steel Colourbond range to create durable and beautiful garage doors.
A sectional garage door uses both vertical tracks on the side of the garage and horizontal tracks on the ceiling of the garage to lift and close the door and use torsion or tension springs as their mechanism. It is possible to install automatic garage door openers for sectional doors for ease of use.
They are easy to insulate, with ARD offering both single layer and triple layer sectional garage doors, with triple layer doors having an extra layer of insulation sandwiched between the front and back steel. By insulating your garage door, you can reduce your energy bills and save money, as well as make the garage itself more comfortable if you are using it for anything other than storage.
Sectional garage doors are designed as such that it is possible to open the garage incrementally in various positions to allow ventilation while cutting out glare from the sun. They are also very quiet to open, so if your garage needs to open and close at all hours of the night, it might be a better choice for your home or business.
Sectional garage doors provide a quick and smooth function, which is particularly ideal for car repair garages and similar uses. The mechanism also allows for fantastic security properties, protecting internal assets from thieves.
Furthermore, sectional garage doors are far better at incorporating windows within the design. So, if this is deemed desirable, you should not overlook this factor.
The Choice is Yours
Choosing a garage door for a new build, or replacing an existing door is an important decision and not one that should be taken lightly. The immediate needs around size, style and design should be considered, but also any future needs.
When looking for domestic garage door options, consideration needs to be given for what the future use of the garage may be. If the garage itself is going to be multipurpose one day, by utilising all or part of it as a home office, gym, workshop or band practise area, then ensuring that the garage door is fit for future purposes is a wise investment.
For commercial or industrial garage doors, new modern garage doors can help make the business run smoothly and make it easier for your customers and employees both.
Garage doors are a great investment for your home, shed or commercial property, but if you're going to make this investment, it's essential that you get it right.