Garage Envy 7 Ways To Create A Magnificent Man Cave 2
Posted by The Kings of Steel | Blog | December 01, 2016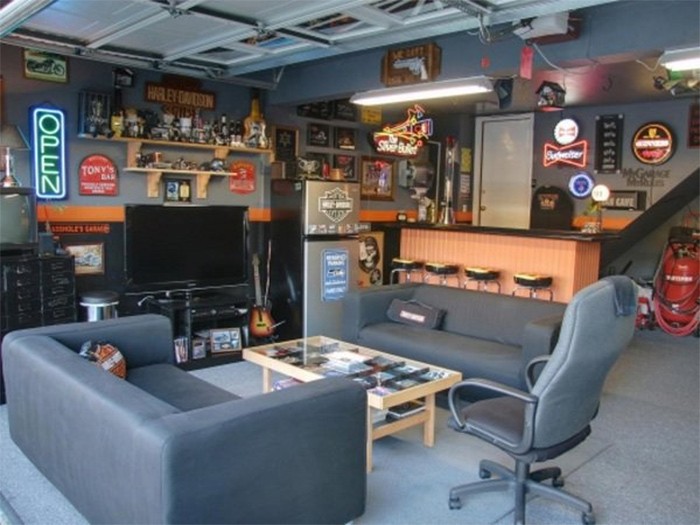 Converting the garage will cost a lot less than extending the home, plus your new space will be up and running in no time. Imagine cracking open a beer in your new man cave in just a few short days.
Designing your man cave
The first decision you will need to make is how extensive you want your conversion to be. Think about factors such as local temperature and how that will impact your conversion. If your garage heats up in summer or gets particularly cold in winter, you will need to look at insulation/air conditioning options. Insulation is a must if you plan on using electronics in the room or if you're bringing in a pool table, which can get damaged from extreme temperatures and humidity.
Your decision to do a conversion is a personal one and will be largely influenced by what you want to do in the room. If you're envisioning a few quiet beers and a game of darts with some mates your conversion can be quite simple. If you'd prefer to make it look like an extension of the home and a 'proper room', this may require more work.
Not 100% sure what it is you want from your garage space? Then check out these man caves ideas for some conversion inspiration...
1. Garage/living room combo
If you still plan on keeping the car in the garage, there's nothing stopping you from 'plushing up' the interior. A double garage offers the space for both the car and a living area so why not combine the two? This is an especially good idea if your car is your pride and joy, allowing you to sit and admire your baby from the comfort of the lounge.
2. Garage Bar
Why go out and spend $8 a beer when you can enjoy a few in the privacy of your own garage? Creating your own private bar is the dream of many Australian men and it might not be as hard to do as you think. All you need are a few game tables, some pub memorabilia, a bar and a few seats.
3. Garage library
Not every guy envisions sitting around drinking beer with his buddies and some men simply want to unwind with a good book in their own little piece of paradise. If this sounds like you, then why not consider turning your garage into a sunlit library, perfect for whiling away the hours with the likes of Oscar Wilde, Richard Flanagan and James Patterson?
4. Garage lift and workshop
If you enjoy tinkering with the car and fixing things in your workshop, you can create a workable space without having to spend a huge amount. When Hollywood screenwriter Jack Olsen was on strike in 2007, he decided to use the time to transform his garage into a place in which he could enjoy his free time. And all for $3200.
5. Garage gym
If you find you're always making excuses not to work out, bringing your own private gym into the home could be just what you need to stay on track with your fitness. Aim for lots of natural light, allow for cool air and install some mirrors so you can keep an eye on your form. All you need now is some equipment.
6. Garage home theatre
Whether you love to watch a movie with surround sound or you like the idea of watching several different sports at once, a garage converted into a TV viewing room/movie theatre is worth some thought.
7. Garage games room
You're never too old to enjoy a games room, and whether your game of choice is pool, snooker, darts or ping pong, the garage is the perfect place to house such fun. What better way to unwind after work than with a game?
So many options
So there you have it. These are just six great ways to convert your garage into the man cave of your dreams. What style will you choose?