8 Amazing Homes That Use Garage Doors In The Interiors
Posted by The Kings of Steel | Blog | June 10, 2016
Retrofitting an existing floor plan into new plans for refurbishment can be a challenge, especially when it comes to extraneous rooms. A multi-car garage with sliding door access is a great for a large family with a lot of vehicles, but when the kids move out or new owners move in, you'll be left with a lot of unused space.
Luckily when push comes to shove, a room is a room, and a door is a door. There's absolutely no reason that an existing space should be dictated by the original plans. On the contrary, there's a lot you can do with a garage interior; since it's by design a fairly bare space, you have a wealth of options to choose from.
In fact, you have enough wealth of options available to you that some architects have begun to incorporate garage doors as part of an intentional design process. They're great for anywhere needing a scenic view or that benefits from the touch of the outdoors. We've collected a few here to give you some inspiration.
Poolside Access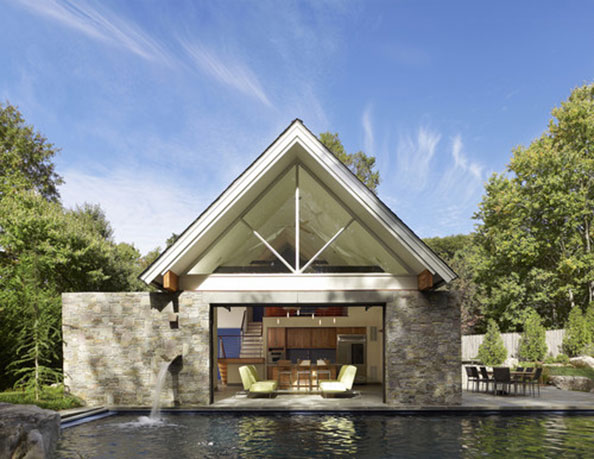 Image via Houzz
Architect Randall Mars has situated his pool house directly on the water with the help of a wide garage double door. This allows not only easy access to and from, the ability to have two distinct groups of people (those swimming and those relaxing) and still have them in close proximity, but gives it a stunning blend of indoor and outdoor coming together.
Viewing Veranda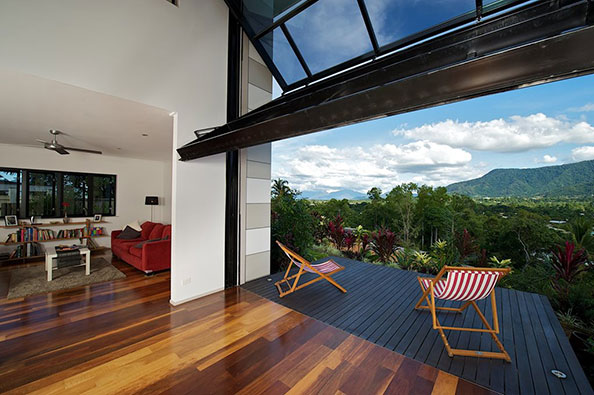 Image via ReillyBuildingProjects
A glass window showcasing breathtaking views when not in use, this retrofitted garage door transforms into an open viewing veranda. The glass door suits the open plan flow-through of the house; the rest of the interior heavily features horizontal sliding glass doors to open up space and keep the gorgeous view ever-present.
Nature Walk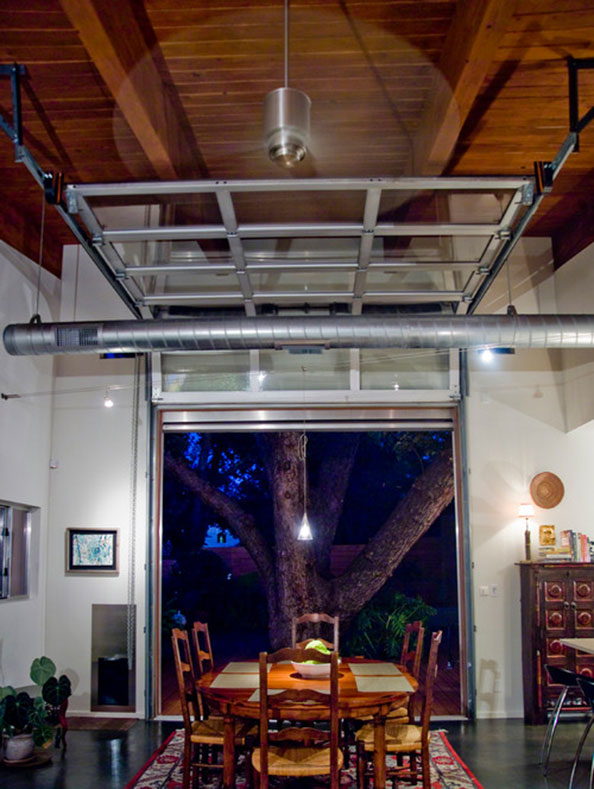 Image via SD Austin
SD Austin have made use of garage doors in the dining room to bring the family meal a touch of nature. Like our poolhouse example earlier, wide access doors can blend your indoor and outdoor areas seamlessly, allowing you to have the comforts of an outdoor breeze in summer and a view (and warmth) in winter.
This kind of design benefits Aussies a lot more than it does people living within colder climates too, as it's extremely energy efficient for us to use natural cooling solutions like this for a longer segment of the year.
Easel of Access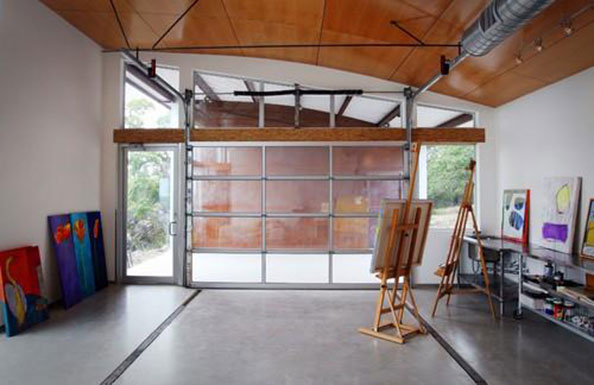 Image via Doba-arch
Domiteaux and Baggett have featured this light-filtered artists studio, featuring an unfettered transition into the outside. One major advantage of the glass garage door, which features prominently in architectural use of the subject, is its ability to not only let occupants a view out, but to let natural light and breeze in.
The Black Box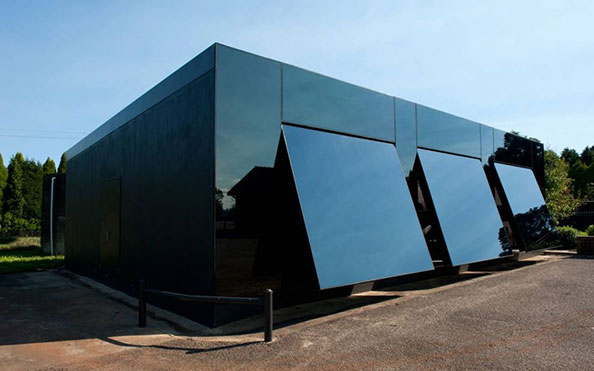 Image via Tina Tzillas Architecture
This piece was originally designed for a software company, who "wanted an exciting, comfortable and inspiring place to work, working within the shell of an existing machinery shed".
The original vehicle access points fit into the ultra-sleek, ultra-modern design of the new studio, slotting into the walls to give the illusion of an unbroken rectangular box. A perfect example of how retrofitting existing design can be made into a fantastic piece in its own right.
Garage Terrace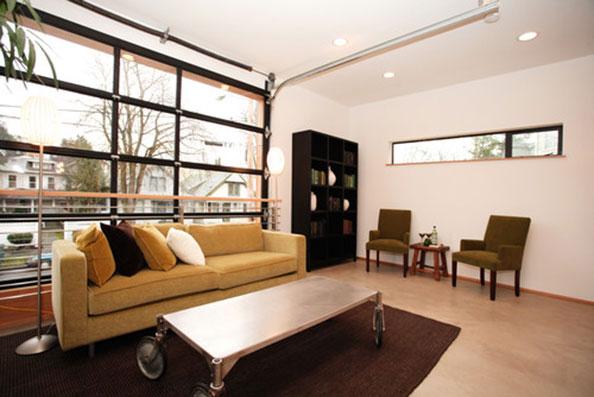 Image via Houzz
Combine the lounge room and front terrace by turning the garage into your living space. This piece, by PB Elemental, saves space by using the front window as an access point for an open front, essentially turning the house into a convertible.
A great solution for anyone who doesn't need any extraneous room with their own garage complex.
Multi-story Solution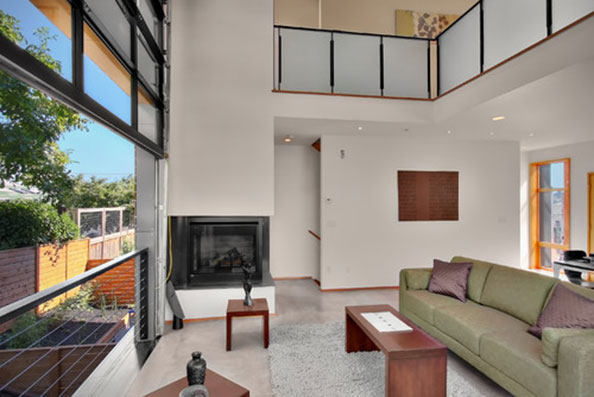 Image via Houzz
The advantage of such a tall door installation becomes apparent within double-height housing, where a variable height and opening can prevent upper areas from not getting aerated enough comparative to the lower.
It also allows natural light to filter through both stories, another issue with multi-stories without a large amount of glass panelling.
Seaside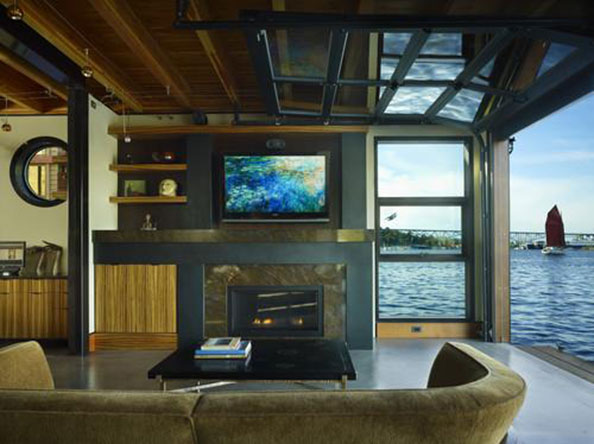 Image via Designs NW
Northwest Architects have taken the pool house concept and turned it up to eleven with a Seattle seaside access. This overhead access door goes straight from lounge to water - no shore and only a short pier connected the in and outdoors - allowing water to splash against the edges of the interior for a constant nautical experience combined with some wonderful bay views.
This piece showcases the extent to which atmosphere dictates design. Garage doors fit here as they allow access and accessibility, natural filtered light, and are by necessity already sealed and sturdy.