9 Jaw Dropping Garage Door
Posted by The Kings of Steel | Blog | June 08, 2016
You have lots of space, well thought out furniture; and art on the walls to start conversations. What about outside, though? What about the garage, specifically? A garage isn't usually the most attractive feature of a house, despite how useful it is. How might you be able to bring attention to the outside of your home, especially when your design budget has been blown? That's where garage door murals come into play. For a low cost, you can turn your garage, or what's inside it, specifically, into seemingly whatever you want. Here are some garage door murals that turn the neighbours' heads, and will blow your mind.
Subway Station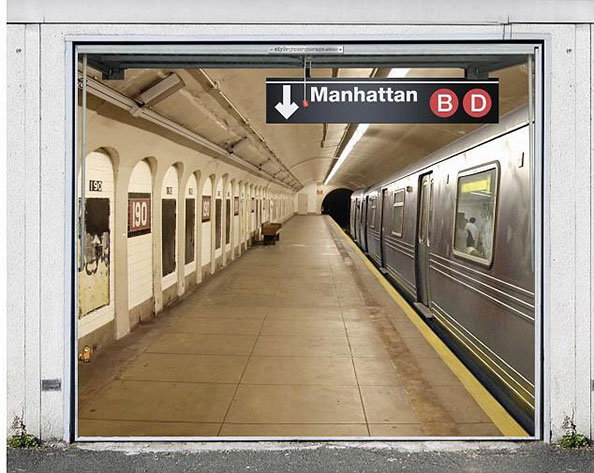 Image via The Daily Mail
Subways don't usually stop right at houses, but you can sure make it look like one does. You could even have one from another country letting passengers off right at your garage door. Maybe you'll confuse passersby by making them think they've somehow driven to another country, or maybe you'll make them think they can hop on the train and get to work. Either way, you'll be drawing attention!
Wine Cellar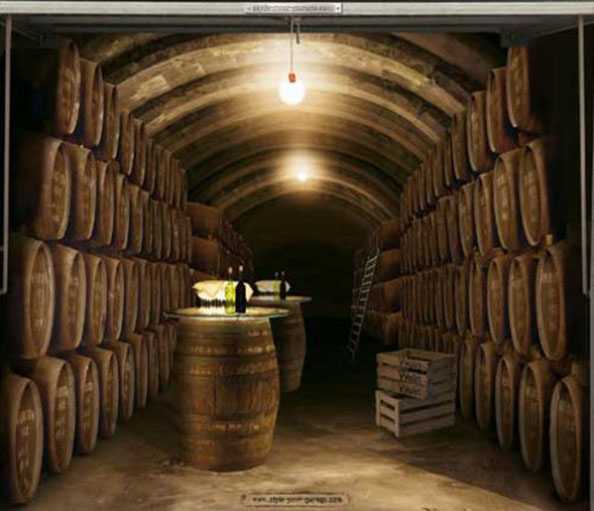 Image via The Chive
This one is a little trickier because you certainly don't want people trying to get in your garage to steal your wine. However, a wine cellar mural will give the impression that you're a sophisticated type who has refined tastes. The "cellar" can be an old-world barrel filled delight, or a modern rack that takes up the entirety of your garage walls. It's up to you!
Animals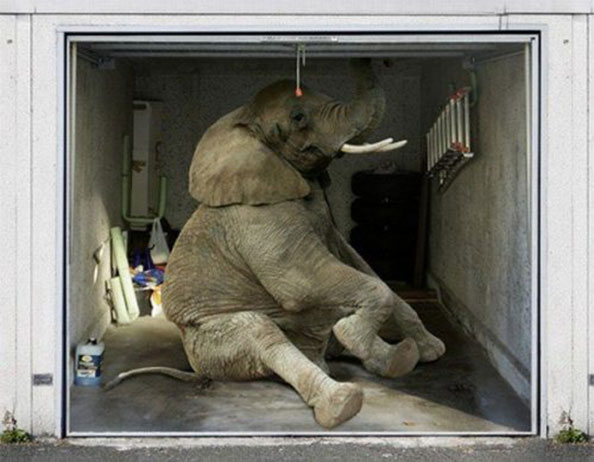 Image via The Chive
Ever wanted to own a pet elephant? How about a crocodile? Now you can, and you can display it for all the neighbourhood to see, as if your garage is a mini zoo. You can even have them in their natural habitat. The best part is, you don't have to feed, walk, or provide any attention to them at all.
Vacation destination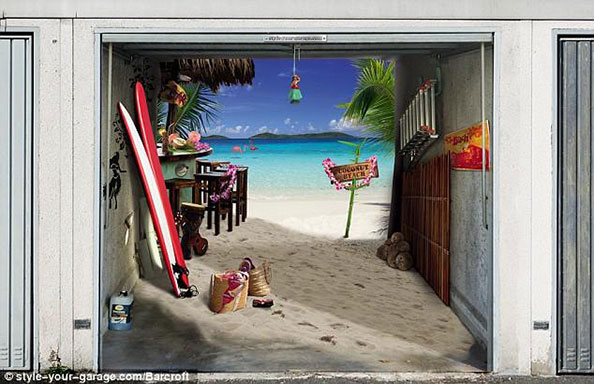 Image via The Daily Mail
Transport yourself to a tropical beach any time you want with a mural that will make you think of warm sun and sand no matter what the season. Just imagine rescuing yourself from the cold weather just by walking into your garage. Of course, if you tried to walk onto that sandy beach you might break your nose, so keep it to your imagination!
A clean garage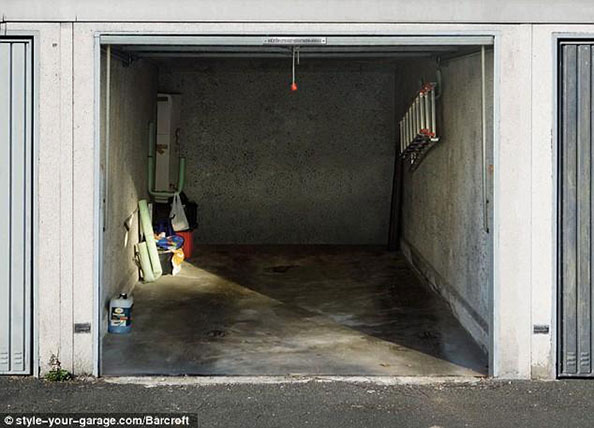 Image via Home Designing
Are you the one on the block who's known as a hoarder? Is your lawn a little unkempt and your bushes untrimmed? Maybe your garage is disorganised and cluttered. Never to fear, because you can make everyone think that your garage is neat as a pin. If you're able, you can find an artist who can create a mural that looks exactly like the interior of your garage, just without the four lawnmowers and seven rakes cluttering up the space.
A nice ride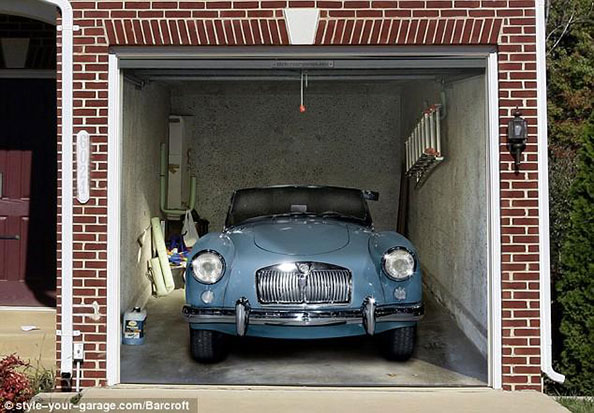 Image via Home Designing
Let's face it: we can't all live in luxury. There are houses that are nicer than others, and lifestyles that are more lavish than others, as well. No matter where you live, you can give the impression that you are living the high-life with a garage mural showing a vintage or high-priced car in your carport. Make that dream car a reality, just don't try to sit in the driver's seat.
Seasonal theme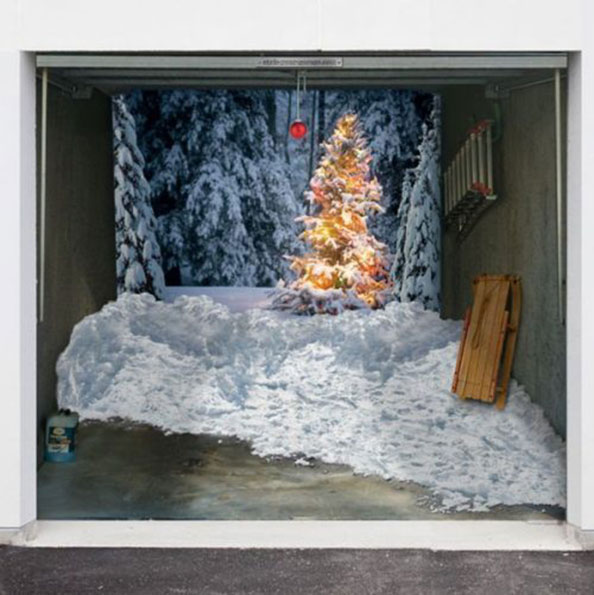 Image via Izismile
One of the best things about many garage door murals is that they are fastened by very high-strength Velcro. This means that they can be removed. Why not improve your holiday decorating by having a seasonal mural? You can have snow and reindeer for Christmas or a ghostly scene for Halloween. Get your neighbours into the holiday spirit with a festive and timely scene.
Tunnel to another world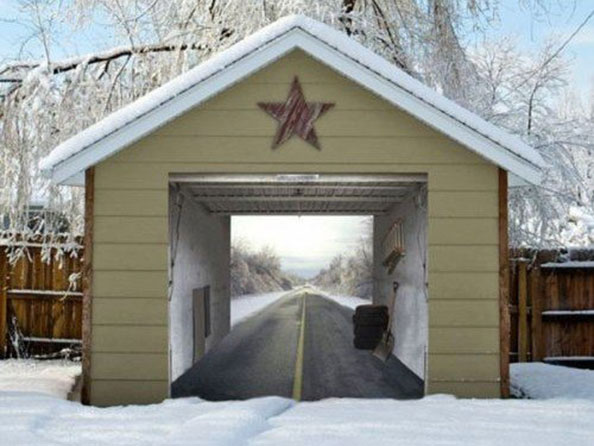 Image via Izismile
What's behind your garage may be your backyard, or it may be something unattractive like an alley or an empty lot. Why not make it seem like there's something vastly more interesting and inviting? You can put up a mural that looks like a tunnel or a covered bridge with greenery and beauty on the other side. Like science fiction? Why not make it seem like the viewer is entering light speed and there's a planet on the other side? The only limit is your imagination.
Something bigger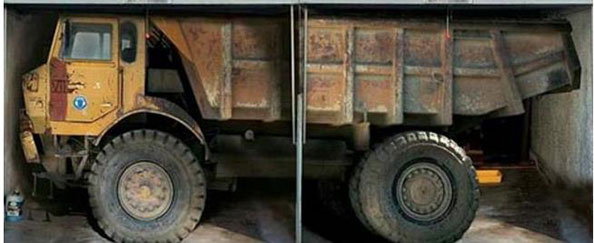 Image via Viral Nova
When we were kids, many of us played with toy dump trucks and tanks, but how many of us as adults can actually lay claim to owning one of those monstrous vehicles? With a garage mural, you can make it seem like you do! This works especially well when you have double-doors for your garage. Then you can really go big.
Why settle for a humdrum garage door with maybe a pattern or a slightly different shade of white to set it apart? A garage mural is a great way to make your garage unique and stand out in the neighbourhood.