How To Get More Fresh Air Into Your Garage
Posted by The Kings of Steel | Blog | January 01, 2017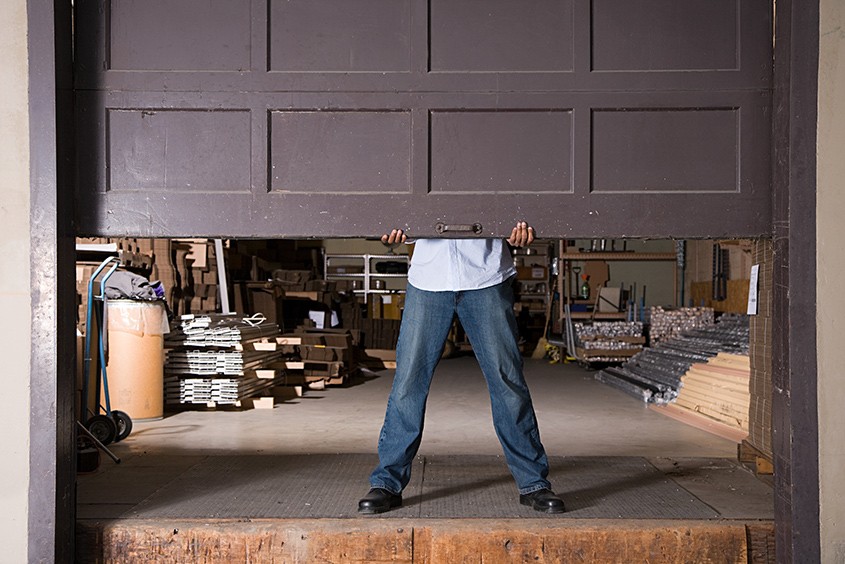 . This can be a real problem if you want to work on your car, or if that's where your workbench is located. Winter time in the garage also brings its own issues, with those dark, cold days really putting the 'cave' in 'man cave'. The garage goes from hot and sweaty in summer, to moist and mouldy in winter.
Even if the weather is mild, you still need to keep fresh air coming into a garage or work shed because you shouldn't be breathing in petrol, turps, paint or weed killer you store there. If you're in a place with a damp climate, you can also end up with mould spores in your lungs, that can cause headaches or breathing problems.
All of these problems can usually be fixed by making sure your garage is getting the maximum amount of ventilation possible.
Mastering the basics
Just opening the door can help a lot, but you don't have to open the whole front wall up. If you don't want to become a neighbourhood sideshow, just open the roller door a little. It doesn't really matter if you've got a sectional door (with or without panels) or a roller door. Create a vent of 10 or even 20 centimetres, and you'll immediately get fresh air into the space. An automatic garage door opener lets you easily adjust the height you want the door to sit at, and it's perfectly safe, as long as you don't leave too big a gap for pets or people to crawl under. And remember to make it really narrow at night or when you're going out.
If the garage has a door or window that faces the backyard or the side of the area, then just open it up. In summer, it's best to make sure there are fly screens.
If you want to work at the bench on a very hot day, a standard fan should be enough to keep things cool right where you are. Basic fans and screens are pretty cheap at most hardware stores.
If you're spending more time in the garage than in the house...
Car enthusiasts and handymen spend a lot of their lives in the garage. The floor has to be able to deal with oil spills, paint and other kinds of mess, but that doesn't mean you can't add some creature comforts. Most garages were modelled on sheds - bare walls, an unsealed roof and the roller door. Vents or fans in the ceiling are guaranteed to improve the airflow and do what they're supposed to do in a steamed up bathroom: keep things drier and cooler.
Given the simple roofing on most garages, it's very easy to attach a ceiling fan to the overhead beam and use the existing wiring to the light or garage door opener. If you need to get moisture out of the roof, you can install an exhaust vent. Turbine vents can go anywhere you need them on the roof. They rely on wind power, so the cost is zero once they're installed. The same goes for soffit vents; once they're installed in the eaves, they create a natural air flow across the roof cavity. Any venting in the roof will let the hot air escape.
Can the garage door fit too well?
One big advantage of roller doors or overhead doors made from sectional panels is that they fit really well. Even if your driveway is sloping or uneven, it's possible to add a seal to the bottom to minimize invaders from the garden. But here's where you need to take advantage of the way that roller door works, as it can be raised by just a few centimetres if the garage needs some fresh air.
That low down ventilation will dissipate any petrol or other fuel smells. Fumes gather low on the ground because they're heavy compared to air, so you need to ventilate both the top and the bottom of the garage. If opening the door a few centimetres doesn't do the trick, you might need to consider pulling a brick or two on either side of the garage and adding in some grated vents to get more airflow low to the ground.
Big improvements
If the garage is the room where the man of the house lives, why not treat it like any other room? Add a window that actually opens so you can get both light and air into the space without opening the door to the whole neighbourhood. Windows are best positioned on the long side walls opposite each other to get a real flow across the room. And they're usually easy to install in a wall with the timber panelling or single brick walls that are typically used in garages.
Those thin walls might also need some insulation but again the simple construction of the garage allows you to add insulation to the roof or walls and then easily put some cosmetic panelling over it.
And if it's really a personal lair within his castle for the handyman or mechanic of the house, you might have to think about a heating and cooling unit. The simple construction in most garages will make it easy to add a standalone unit, but it's best to add that insulation first and possibly a ceiling so that the unit works most efficiently.
Making the garage a more pleasant place to be
So getting more air into the garage can be done in a variety of ways depending on what you store there and how long you really want to spend in the garage. Of course, most garages already have the roller door that is the original venting for the moisture and toxic odours that get trapped in all-purpose storage spaces, which is vital for the modern home. Taking a few small steps can make your garage a much nicer place to hang out, meaning you'll get all the more work done!