Garage Doors Aren T All The Same Which Should You Choose
Posted by The Kings of Steel | Blog | February 23, 2017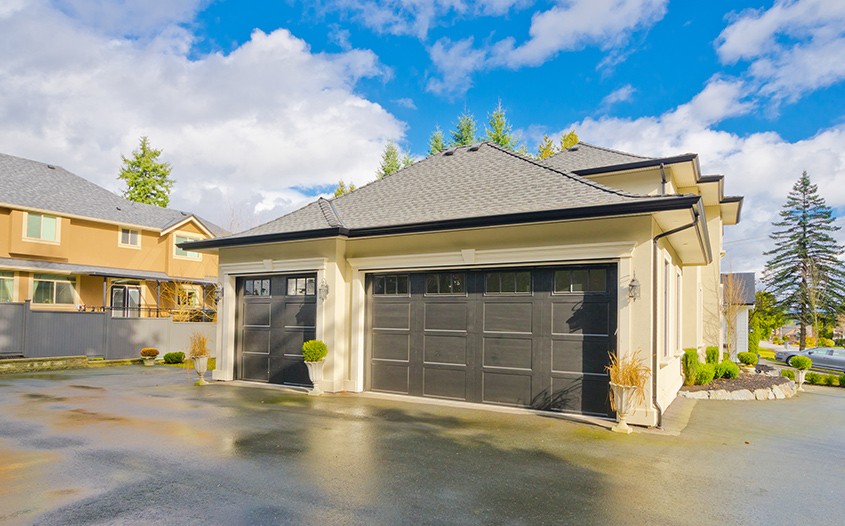 A one piece tilt or sectional roll-up? Focusing on how it will work is a key thing to consider, however it's wise to also choose your new garage door based on aesthetics, as it will drastically affect the overall look of the exterior of your house.
Your garage door is a significant feature, usually at the front of your house. At the very least, it's visible from the street. If you have a newer house with a garage big enough to fit in two or three cars, the door will be an even more prominent feature. So, you have to choose wisely and get a door made of the right individual material for your house.
What kind of steel?
Steel is the most common garage door material. It's relatively inexpensive, and can be easily coated with all kinds of finishes, including wood-like finishes. This can be a real plus if the rest of your house features natural timber. If you do a makeover on your house, then this kind of door can easily be given a new colour. Steel also comes in panels that roll up on a frame parallel to the garage roof, or small segments that roll up like a scroll above the garage door frame. If you get a steel sectional door, you'll have to figure out the exact thickness. Most come in a standard 27- or 28-gauge steel. The Stratford Collection illustrates what can be done with sectional doors, and there's also a big variety of roller doors to fit every style of house exterior.
The next decision is whether to line your garage door. You can get a thicker steel door with some kind of insulation. Remember - the lower the number, the thicker the steel, so you'll be looking for a 25- or 26-gauge steel. That lower number will also help keep the garage secure, as it makes it harder to break in.
If you use your garage as a workshop, you'll probably want to insulate it – both the walls and the door. This helps with both personal comfort and energy efficiency in any kind of climate. Insulation has the added benefit of drastically reducing outside noise – a huge benefit if you want the garage to be a real man cave.
Using other materials
Aluminium is another possibility. It's generally cheaper and lighter than steel, so if you're going to be lifting the door yourself, this might be the best option. It can also be painted with all the same finishes as steel. The one disadvantage, though, is that it's very easy to dent. It's even softer than thin steel. On the other hand, if you live in a damp or humid place, and especially if you're near the beach where salt will corrode a steel door, aluminium might be a better bet.
Wooden doors are an option we don't recommend. Wood is warmer than steel, unless you insulate the metal door. It's also hard to maintain; you have to paint or stain the garage door at regular intervals, however this might not deter owners of older houses who are already caring for the other woodwork on their home.
What kind of door should I choose?
Most people stick with the common functional kind of roller door, or a sectional door that rolls along a track and is attached to the garage ceiling. These work with automatic garage door openers, and it's easy to find an installer who can get the system working.
Homeowners with a soft spot for the antique look can choose other doors that suggest a rural touch. Doors can be made to swing out in a carriage-house style. This kind of door requires a large driveway, preferably one that's pretty even, because the doors will have to swing out on hinges from the front of the garage. For the rustic look, you can get doors that slide open like a barn. Again, this requires plenty of space, and may not work without a sizable suburban block and a long driveway.
Deciding on the perfect colour
Manufacturers have a range of colours that work with most house colour schemes. The typical metal door is powder coated and will last beyond the usual paint job. If you want something unusual or even unique – you can design and colour your own garage door. Like the car that will be inside it, it's possible to design your own garage accessory that has your favourite design and colours. This will add to the cost, of course, but if the garage door has to be a feature of the house and is likely to enhance the curb appeal, remember that a distinctive external feature like this can often brings a significantly higher price to your property, so you're likely to recoup your additional investment.
If you have a real flair for design, you can probably add some windows and coach lamps. The windows have to be high enough to keep intruders away from seeing what's inside the garage, but a row of windows can be added to many sectional or carriage house doors. Almost any kind of garage is improved by lamps on the side of the door, as they're very aesthetically pleasing and come in a huge range of styles. From chic modern to the antique look that started when garages housed horses and carriages instead of cars, lamps add a unique feature look to your garage.
Designing your garage specifically for your home
From choosing the right colour and design to assessing the functionality, choosing a garage door doesn't have to be difficult. If you think about the current colour of your home's exterior, how much space you have and whether you would prefer a tilt or roller door, you'll be there in no time.