Tips For Keeping Your Garage Safe For The Family
Posted by The Kings of Steel | Blog | February 01, 2017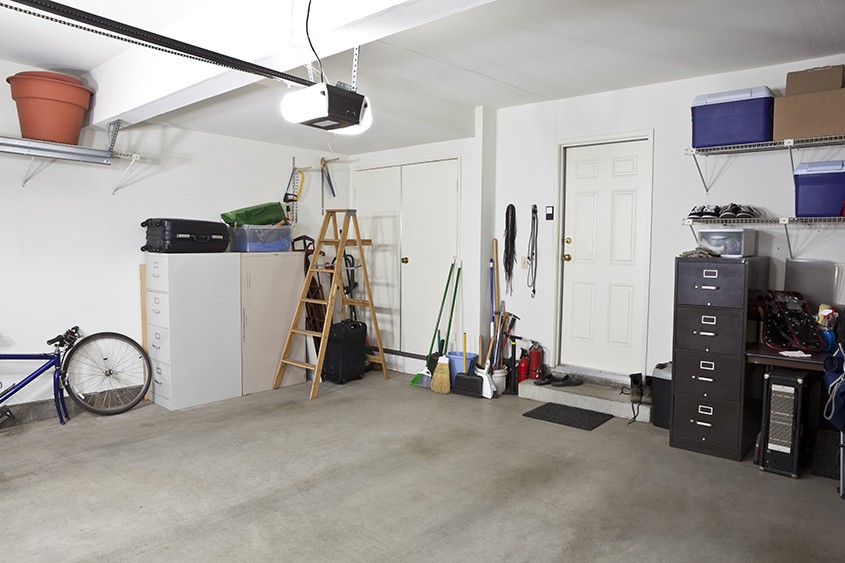 Statistics show that thousands of children sustain injuries around the home each year. Even more alarming, this particular study found that 20 percent of Australian homes still have easy access allowing unsupervised toddlers to enter into the garage.
Believing that there is nothing to worry about is a big part of the problem. The garage is often the place where we put the objects we don't want to have in the house – for example, the chemicals and cleaners that we think are toxic. And, of course, that's also where we keep our dangerous and heavy tools.
The garage also has other issues we often ignore. If you have a large garage that's big enough to fit two or three cars, it's very easy to put old toys, furniture and various junk in there, to put it out of sight and out of mind. This can soon become a hazard to children who might think there's something interesting out there in the garage, as a messy junk pile can pose many dangers. We've put together some particular objects you should watch out for, and how to keep your family safe while still having a useful, practical, clean garage.
Keeping chemicals out of reach
Drain cleaner, pool chlorine or turpentine never seems to be quite finished, so it's very tempting to just put it on a shelf or in a box in the garage. You know it's there and shouldn't be messed with, but small children may have no idea that they shouldn't play with these highly hazardous substances. And remember, there's always a chair or a ladder in the garage, so even if you put the poisons up high on a shelf, you may not really be protecting inquisitive youngsters from themselves.
If you're environmentally conscious, you may find it especially hard to dispose of these chemicals the old-fashioned way – by tipping them down the drain or just throwing them out with the weekly garbage collection. Councils don't want any poisonous or hazardous materials being thrown out with the garbage, so there are designated places where you can drop off dangerous chemicals, such as paint and cleaning products. Quite a few councils also have designated days of the week, usually a Saturday, when they will collect any chemicals or batteries as part of the waste collection service. More information about these services is usually available on your Council's website.
It's important to consider when deciding to keep chemicals in the garage - am I really going to use this? Or is it going to sit there for months and, quite likely, never be changed to change the oil in the car or paint the furniture? Once you've decided to get rid of your unnecessary products, you'll need to take it to your local council collection point, as it won't last very well sitting in the garage for months on end.
If you decide you really do need to keep chemicals in the garage, make sure that they're in safe containers with tightly closed, preferably childproof lids. As an added precaution, you can lock them up and put them up high, away from any toys or sport equipment children are likely to be getting out of the garage. In fact, it's best to have a designated corner where children know to put their belongings, such as bikes and skateboards. It should be completely separate from the household chemicals. That way, they won't even be tempted to wander into danger.
Gas barbecues can also create a hazard, especially if you store a spare cylinder full of gas in the garage. This can cause fires or explosions. You also need to make sure that you have a fully-functioning smoke alarm in the garage, remembering to check the batteries twice a year. The best way to do this is to make it a part of your routine to change the batteries whenever you have to wind the clocks back for daylight savings - this means they'll always get checked twice a year at least.
Storing ladders correctly
The obvious way to store a ladder is to stand it up vertically against a wall. It's obvious, however it's also a bad idea! This means that anyone brushing by can accidentally push it onto themselves, or inflict significant damage to the roof and doors. The best idea is to lay a ladder horizontally on the floor so that it has nowhere to fall. Better still, you can hang it horizontally from the ceiling or the wall. Storing the ladder horizontally also greatly reduces the chances it will tempt small children to turn it into climbing equipment.
Other workshop items like saw horses and benches are best packed away or covered, so that children don't feel the urge to misuse them or turn them into toys.
Keeping the garage safe as well as secure
The garage is the place for the car, as well as other expensive, potentially dangerous items. You can't solely rely on the car's alarm system to protect the contents of the garage. Your garage door and locks need to be as secure as the locks on the doors in your main house. It's easy to forget that thieves will target a detached garage, and no door to any garage should ever be unlocked.
If you have tools in the garage, you're providing any potential thief with everything he needs to smash windows or open locks, especially if you leave hammers, chisels and screwdrivers lying around and available. If the garage door or window is the weakest security point, then any thief will easily decide to use the garage to gain access to the rest of your home. Having a tamper-resistant lock on your garage door, like the ones from ARD Garage Doors, is essential.
A deadbolt on the door leading from your garage into your house is as necessary as a deadbolt on the front door.
Managing your automatic roller doors
The older-style manual garage doors can be a safety and security hazard. Older-style doors are much easier for potential thieves to break open, even if you're vigilant about securing the padlock and chain every time you leave the house. Locks are only as good as the screws holding the hasp and staple, as they can be easily pried out from most doors with a screwdriver.
A solid roller door offers much more security and protection than any door you have to close yourself. The mechanism is all inside the garage. The door itself cannot be opened from the outside with any kind of hand tool, and it's always secure. Having an automatic garage door opener is also an easy way to save time, and prevent injury from children not being old or strong enough to open the door themselves.
Educating children to be careful around electrical doors
Even with a fully automatic garage door, things can go wrong if it's not designed and installed properly. A 2010industry survey by the Australian Garage Door Association found that more than a third of garage doors in Australia were not in good mechanical condition, and a quarter did not have effective safety components.
The garage door is a heavy piece of moving equipment, and should never be treated like a toy by children. Kids love to push the garage door button and feel the power of it moving, but behaviour such as this really should be discouraged.
A game like this can turn into into something much worse if kids try to slide under the door before it closes. Good automatic doors are designed to stop if they encounter minimal resistance, but no one, especially children, should be experimenting to make sure this feature works. It only takes one slip-up for a tragedy to occur, so try to educate your child not to go near the door when it is moving, and to wait until it is fully opened or closed before approaching.
It's important for children to be aware of the electrical components of the garage door, to avoid shocks and other injuries. A good door should also have an electric beam that uses a motion sensor to halt the door if anything crosses it and breaks the beam. This is a vital feature to ensure nothing gets stuck between the door and the ground.
Maintaining your garage door
Like most machines, a garage door opener is only as safe as the operator. If you're careless, expect that things could go wrong. Make sure the door is fully open before driving into your garage, and be particularly careful that the door has fully closed before you drive away. Even if you're in a hurry, it's better to see the door closed, rather than coming home and having your belongings stolen.
Maintaining the door is also important for making sure it stays safe. Spraying silicone or another recommended lubricant onto the rollers will help the smooth operation of the door, and will also reduces that annoying grinding noise. Check that the spring that drives the door is in good condition, as these high-tension springs can give way and break after a number of years.
Repairing or changing door springs and other equipment is not a job for the weekend handyman. The springs are heavy and difficult to manipulate, and a broken spring can easily cause injury if you're not absolutely sure what you're doing. If you see serious wear and tear on the springs or the cable, the door can become unbalanced and a serious hazard. A safe door has to be well balanced and should operate freely. If the door won't close all the way, it's time to call in an expert to make sure that it is repaired properly, as the door mechanism will be under high tension.
In an emergency, if the spring breaks, you can operate an automatic garage door manually. Before turning to manual operation, though, make sure that no one is standing in or near the doorway. If the door has become stuck halfway, make sure your car is well clear of the door before you attempt to open the door manually.
Every two months, you should run your own test of the reversing mechanism. Put a small box or roll of paper towels under the door and close it. The door should stop or bounce back because it has hit an obstruction. If it does not, you will have to get a qualified technician to check out what's wrong with the door.
Keeping your family safe while using the garage
Automatic roller doors on your garage are both safe and more secure. Being sure to keep dangerous items, such as heavy tools, ladders, and chemicals for the household and pool out of reach is imperative for keeping your garage safe for your family. Making sure everyone knows to watch out for cars and not abuse the use of the remote control opener are also important ways to keep your family safe while using your garage.